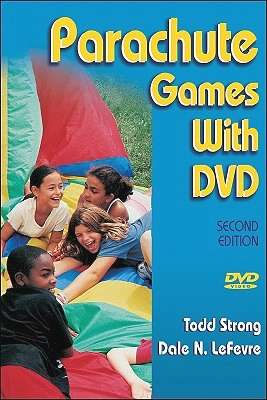 The revised and extended
Parachute Games
book by Dale N. Le Fevre and Todd Strong.
The parachute is a wonderfully dynamic piece of play
equipment
, and this package shows just what you can do with it. Helpful hints included on how to present the games, who and how many to present them to, and the developmental skills involved. And so much more!
A Complete Parachute Games Resource
Are you and your students or participants tired of the same old activities? Parachute Games will help you revitalize your programs and involve participants in exciting, easy-to-do activities. The revised Parchute Games package is a fresh source of ideas for elementary and middle school physical educators, recreation specialists, and classroom teachers. With 59 parachute activities and an accompanying DVD demonstrating the games in practice.
What's Included?
Parachute Games with DVD is full of fun, low-cost, high-interest activities that use a minimum of equipment and can involve a maximum of participants of all ages and skill levels. You'll learn everything you need to make parachute activities exciting and safe, including:
How parachute games are adaptable for any level of fitness or ability
How to successfully lead play sessions – from selecting the teams to keeping things fun even when discipline is necessary
How to purchase, repair, clean, and store your parachute
A handy "Games Finder" enables you to locate and select appropriate games quickly. In addition, the DVD allows you to see a broad sampling of games in action, including three complete sample play sessions, to help you apply the information and motivate children to fully engage in and enjoy the games. You might also find it useful to let children preview the games on the DVD so they can better understand how the games are played.
Written by experts who have been teaching and promoting the New Games approach for over 20 years, Parachute Games will provide hours of fun and improve the quality of learning in all your activity programs.

Format: Book and DVD
Pages: 145
Limited Offer – Free Shipping
In Stock
Price: $34.00
(plus $12.00 S&H)
A must read for any teacher! This book has practical and easy instructions for 60 parachute games. A fast and easy read! (Five Stars)