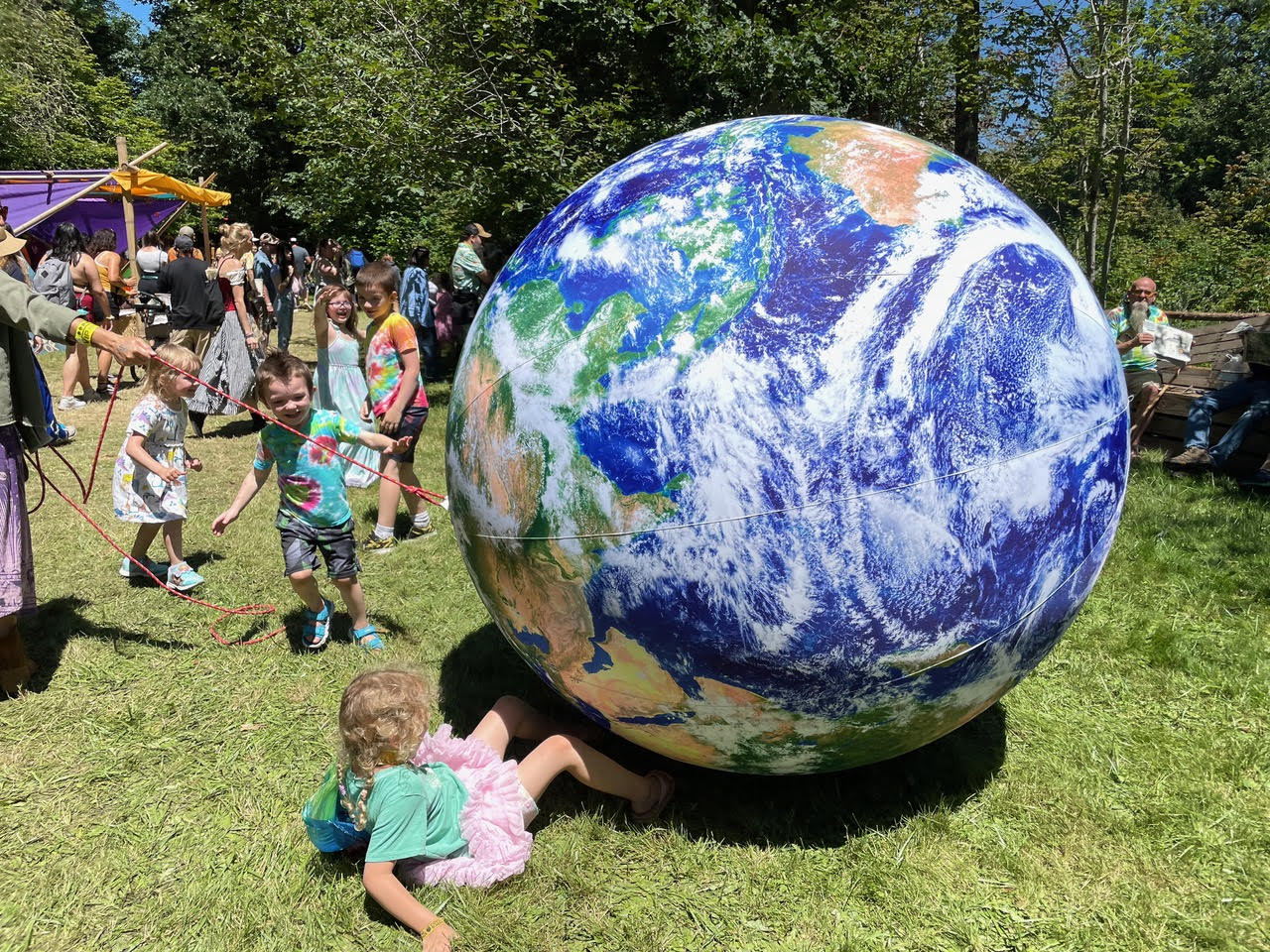 The Earthball is a great symbol and a visual knockout.
Okay! I know I've asserted that equipment is not necessary for New Games, and that's true. However, the enduring symbol for New Games is this large, light-weight Earthball, which was used in the very first New Games Festival in 1973. The ball was originally the idea of Ken Kesey (author of "One Flew Over the Cuckoo's Nest"), and is now available for all New Games fans and leaders, to rent or buy. It can be used in competitive and a variety of cooperative activities. A summary of these games will be provided upon purchase.
Have a ball!
This New Earthball Is a fully preprinted, rugged, cloth skinned globe for field games. Brand new to my supplier, they have dye-sub printed, polyester skinned covers. Because they are printed in this way, the ink goes all the way through the fabric. This means the globe image doesn't scratch off with use. The polyester material is hardy and they have a sturdy bladder inside.
As you can see, the printing these globes is gorgeous. Displayed is one of their 6-foot New Earthballs being played with by children. Notice the color and detail. You could never have done this on a canvas globe.
How are these Earthballs different to the original canvas globes?
These globes are lighter than the canvas one, the 6′ is 13 lbs. inflated. The original canvas one is more than double that. When little children play with the canvas ball, the ball must be watched by a responsible adult, since the inflated ball weighs about 30 lbs, and a child being hit by one can knock them for a loop. The New Earthball is safer In this regard. The original Earthball needs to be painted, the New Earthball comes already painted all the way through the fabric.
Turn Around Time
My supplier will often have these New Earthballs in stock. If they don't have the size you need in stock, it will take around 3-4 weeks to make and be delivered. Please inquire to find out shipping costs and how long it will take to get you an Earth Ball. Location also makes a difference in delivery time from the supplier in the U.S. Pacific Northwest.
Prices For Rugged Globes
Here is the pricing on these new, fully printed Rugged Globes. Naturally we have to add shipping onto these prices.

6-Foot New Earthball – Complete Package
Fully printed cloth covered Earthball, including bladder.

4-Foot New Earthball – Complete Package
Fully printed cloth covered Earthball, including bladder.
Price: $1,549.00
(Contact us for S&H)
We also offer larger balls, and discounts for orders of multiple Earthballs. Please contact us for your requirements.