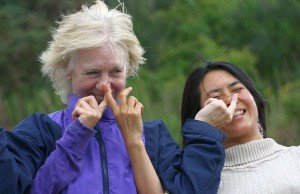 Since the early 1970s, proponents of the New Games movement have been using interactive cooperative games to bring diverse groups of people together. The games sometimes include competition, but where participants play together rather than against one another. The capacity to join and have fun with others is more important than winning during cooperative play. In other words, we don't have to suffer the extremes of competition.
New Games Embody an Attitude Toward Play
Remember when you were a kid and got left out of a game, even if you were in it? I certainly do. That happens to everyone, sooner or later. In New Games everyone who wants to play is included in a meaningful way.
Look at the faces of these people, they're smiling! This is the most exciting development in physical education in 50 years.
University of California, Davis
New Games are not computer games or board games. They are sociable and active play where people relate to each other in fun group games. No big reward is given for winning a game. "You won? Great, you can start the next game."
New Games Promote Social Skills for All Ages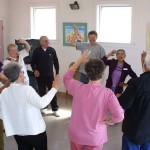 Everyone can play New Games regardless of age, ability, size, or gender. They require little or no equipment and are presented and played in a safe manner that encourages participation, creativity, and personal expression.  New Games offers a new direction for traditional sports, physical education, and recreation. Ultimately, by cooperating in play, we learn to live together better.
When I grew up, I was always out playing games with neighborhood kids. We now live in a time when children, as well as adults, are becoming more isolated and less active. The results are we don't learn or practice social skills and are less fit, tending towards obesity. New Games provide a way of overcoming these trends.
New Games are for:
elementary to high school classes
physical education programs
retirement homes
after school programs
community groups
parents
communication games for businesses (from conflict resolution to team building games)
In short, they're for anyone who leads or is part of a group.
Change the Way Groups Work and Think… Together
New Games are great as ice breaker games since they are good to start off most activities. The games can be used as team building games for adults or for kids bringing the group closer together, working equally well for both. New Games are group games for adults as well as children, and have been used for post-war conflict resolution through to simple family fun.
The best way to experience New Games is to attend an event or workshop to participate in cooperative play yourself, but getting one of the DVDs or books can prepare you to lead and play the games. To get a brief taste of cooperative play, download your free 'New Games Starter Kit'.