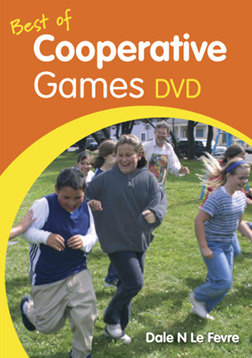 New Games and cooperative play activities for all ages, sizes, and abilities, and both genders. The
Best of Cooperative Games DVD
features inventive activities that focus on fun group games for specific learning skills like Math and English, and developmental skills like throwing, catching, and running.
Complete Resources For Group Leaders
Dale N. Le Fevre presents an excellent addition to the New Games materials – a DVD that's fun and highly useful. Any group leader or teacher can use these games with his/her group and get a positive response. As always, these fun cooperative games are for both genders and all ages, sizes, and ability levels.
Skills Featured in These Fun Group Games
Teachers and other group leaders will be glad to know that Cooperative Games are more than just fun (though they are certainly that!), for they teach or reinforce basic skills in math, English, environmental awareness, teamwork, creative thinking and expression, concentration, listening, and memory.
Build Developmental Skills
Cooperative Games also include important developmental skills that every child needs to promote learning and social skills. The DVD introduces teachers and students to games that cultivate physical experiences – like throwing, catching, running – and social experiences, such as cooperation and inclusion. Basic learning skills of concentration, listening, and following directions are integral to each game. Best of all, these are enjoyable games that actively involve everyone. Watch the smiles on the faces of your players when they play Cooperative Games!
What's Included?
Each game on the DVD is 2 to 3 minutes long and includes a full explanation, demonstration, and is played enough to show how it looks in action. The DVD also includes descriptions with a skill guide for each game.
Various ages of elementary school children are shown doing the games with a few from high school aged kids. These games are especially appropriate for coed programs. Most games presented here work with adults, too.

Format: DVD
Running time: 60 min. (26 games)
In Stock
Limited Offer – Free Shipping

Format: Download
Running Time: 60 min. (26 games)
No Shipping Costs
In Stock