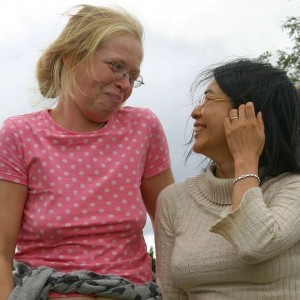 During the New Games Leadership
Workshops
Dale teaches attendees the games and how to lead them with their group. Leading New Games is different than traditional sport. The
workshop
is very hands on, as participants practice leading the games with feedback from Dale. Then finish by leading an open session where family, friends, and the community are invited to give workshop participants a real-life experience of games leading.
At a workshop you will learn how to:
Lead many New Games for groups
Facilitate a new style of play that encourages freedom and creativity
Integrate cooperative games with competition
Use many New Games in your program
Increase participation in your program of cooperative games by including people usually left out of more traditional sport programs
Involve the community in your program
Plan and organize successful, well attended events
Adapt any cooperative games so that everyone can play
You will also experience these new ideas:
Creating the play community
The playful games leader
Creative play
Changing rules to meet players' needs
Soft War
Energy Flow
Trust games
I arrived feeling resentful that I had to get up so early and give up a weekend I badly needed for myself. After one game I knew I wouldn't have missed it for anything.
Albany School District, California
Who Should Attend?
Recreation Leaders
Teachers
Physical Education Instructors
Community Organizers
Personnel Directors
Social Workers
School Activities Coordinators
Health Professionals, including physical therapists and mental health workers
Parents
Religious Activities Directors
Camp Directors
Anyone who leads or is part of a group
In New Games, the goal is for everyone to have fun playing together. The people playing are the most important part of any game. Games are changed to meet players' needs. As a result, the New Games concept can be used in any area of human relations to create a bond of trust, communication, and community.
When I drove my car back home Sunday evening I suddenly knew it: During the workshop I had the opportunity to play myself and you know what I found out? I liked myself! And this hasn't happened for a long time! What I liked most about you? Your patience with us, your flexibility and your hesitation sometimes. You are not perfect, too! And you are not afraid to show this."
Zonne and Schild in Amersfoort, Holland
Some of Our Upcoming Events
New Games Leadership Workshop, Newport Beach, CA
This is an opportunity to learn New Games by playing them! You will also learn how to lead the games and practice leading them with positive feedback. You will find when to use which games, and how to create your own New Games. For teachers and group leaders for: business course leaders, youth, churches, Scouts, after school, day care, park activities, meetings & more! In English.
When:
Sat October 7 10:00 - Sun October 8 17:00
A comprehensive list of upcoming and past events is also available here.
:::
To learn more, or book a workshop for your organisation or group, simply fill out the form below: