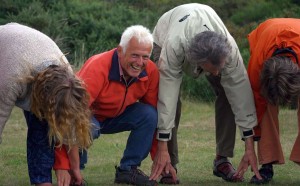 New Games are perfect as ice breaker games for any meeting – large or small.  Festivals, public gatherings, company meetings, and
school
fun days all benefit from participation, inclusion, and coordinated activities.  Bring a fun mood to the meeting, for all ages.
Kick Off Positive Meetings
Instead of starting off your meeting with long statements or conflict, why not start off with a cooperative game that gets people at ease and more in a mood to cooperate to get things done?
Playing New Games stimulates attendees' endorphins. It has been shown in studies that when a person's endorphins kick in, they create a feeling of well-being. So even people coming to a meeting with stress, tension, and animosity can have the hard edge taken off their negative feeling – if not entirely removed – using cooperative play. In this sense, New Games act as ice breaker games and facilitate better communication.
The result: a smoother meeting where more gets accomplished.
It was a great opportunity to work with Dale. He facilitated some dynamic, creative and interactive sessions for a big Sheffield Hallam University
event
. The overall event brought together well over two hundred people from the Faculty of Health and Wellbeing.
The ice-breaking activities set a very positive, creative tone for the day and the group workshops in the afternoon added to the excellent atmosphere through the event. The day received great feedback and was seen to have a very good effect on relationships and cross-Faculty co-operation.
Sheffield Hallam University
Enliven Events, Picnics, and Festivals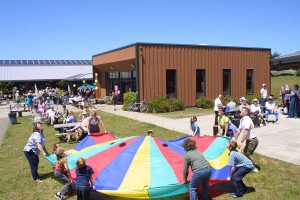 While the whole event can be a New Games session, these can also be part of a greater event like a picnic or festival. New Games on their own are a special happening that engages and involves all comers, allowing them to contribute to their own enjoyment by the way they play the games. The more participants get involved and use their ideas, the more they enjoy the games. Of course, a New Games leader is there to facilitate getting people involved as well as presenting the games.
For picnics and festivals, we can do large group games as well as small, depending on how many people respond at any given moment. Cooperative play is attractive because everyone can do the games and the games are fun!
The result: an exuberant group that appreciates large group games and activities that children, parents, and even grandparents can join.
For the Team Building day of our yearly Global Cargo Team Event, we've had the opportunity to work with Dale Le Fevre and have an afternoon of fun with his creative and ingenious games.
Our team is made of people from around the world, with different cultures, different nationalities and, seemingly, different ways to have fun. Through the games we played, the hierarchy disappeared, the language barrier was lifted and we were all able to connect and have fun in a relaxed atmosphere. Feedback from the team was excellent.
International Association of Travel Agents
Energize Your Conferences
A conference can be a daunting prospect for those attending, especially if the attendee knows no-one or only a few people. Starting with icebreaker games in a New Games session makes everyone feel relaxed and comfortable with the other participants. After all, when you've been your "finger to nose" of your partner in a game of "People to People," tension evaporates. It gives a person a sense of belonging and familiarity with the other players.
The result: participants are energized, meaning subsequent sessions go better with greater openness to the material being presented, and a readiness to be involved.
Past Conference Presentations (Click to view)
July 2011, IPA (International Play Association), Bristol, England
May 2011, Centre for the Study of Play, Greenwich, England
September 2010, Men's Retreat, Derbyshire, England
October 2009, Jenny Mosley's Teacher conference, nr. Swindon, England
February 2008, IATA Travel agents, Geneva, Switzerland
October 2007, Education Conference, Findhorn Foundation, Forres, Scotland
September 2006, Sheffield Hallam University Caring Staff and Faculty Away Day, Sheffield, England
September 2004, Mendocino Unitarian Church, CA
January 2003, Sonoran Youth Alliance (keynote), Tucson, AZ
January 2003, California Kindergarten Assoc., Santa Clara, CA
November 2002, Association of Experiential Education National Conference, St. Paul, MN; November 2000, AEE Nat. Conf., Tucson, AZ
July 2002, PEACH, Cal Poly, San Luis Obispo, CA
March 2002, Peer Counseling Conference, Anaheim
June 2001, Colorado Assoc. for Play Therapy, (keynote), Breckingridge, CO; October 1998, Association for Play Therapy, Phoenix; October 1997, Assoc. for Play Therapy, (keynote, 500 participants), Orlando
March 2001, (keynote, 500 people), San Jose, CA
March 1999, (keynote, 2000 people), Anaheim, CA
October 1998, Association for Play Therapy, Phoenix;
October 1997, Assoc. for Play Therapy, (keynote, 500 participants), Orlando
June 2001, WAVE (Work, Achievement, Values, Education), New Orleans, 2000 Atlanta (keynote, 200 people), 1999 Las Vegas, 1997 San Diego, 1996 Orlando, 1995 New Orleans
April 1999, CAHPERD, Adapted Physical Education, Santa Rosa, CA; November 1995, CAHPERD, Adapted Physical Education, San Jose, CA
April 1998, AAHPERD (Am. Assoc. for Health P.E., Rec & Dance) Reno, NV
February 1997, Police Athletic League, Monterrey, CA
May 1996, Dept. of Social Work – Legal Services, Sacramento, CA
May 1996, Health and Harmony Conference, Santa Rosa, CA
August 1995, California Middle School Conference, Cal. State Univ, Fullerton, CA
March 1995, CAHPERD P.E. Conference, Santa Clara, CA
March 1995, National Training Associates, Asilomar, California
March 1995, American Students Medical Association, San Francisco
March 1994, CA Conf. on Self Esteem, San Francisco, CA; February 1991, Santa Clara, CA
April 1993, National Conference on Self Esteem, Las Vegas, NV
August 1992, Cal Poly/Physical Educ., (keynote, 1000 people) San Luis Obispo, CA
July 1991, School Educational Psychologists, Braga, Portugal
April 1989, Conference on Laughter and Play, Anaheim, CA
Summer 1981, Business in the New Times, Stockholm, Sweden
Summer 1980, European Assoc. of Humanistic Psychology, Geneva, Switzerland
Summer 1978, Association of Humanistic Psychology, Princeton, NJ
Spring 1977, Association of College Unions Int., Asilomar, CA
To learn more, or book New Games for your event, simply fill out the form below: