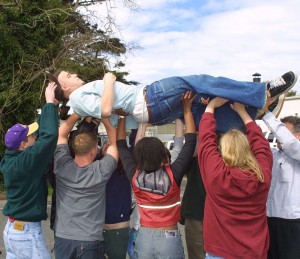 The best team-building activities and ice-breaker games for
youth groups
that I've ever come across are New Games. I was in a few youth groups as a kid, but they always had games with a heavy competitive element, thereby leaving out or embarrassing a good portion of the kids. New Games will bring all ages in your Youth Group together, and encourage better relationships.
New Games are fun youth group games that not only include both genders, but are for all ages, sizes, and abilities. Younger children take to these games enthusiastically.
Teens like the games, too
Even though they may at first be resistant to what they feel are "children's games." Once you get them past being "cool," they love being able to play uninhibitedly. The role of the leader is, without saying so directly, to give them permission to play the games. That may take a little coaxing. It helps if the leader takes part in the games, thereby showing a willingness to make a fool out of themselves. This increases the trust factor immensely.
"It was fun to see some of the reserved and competitive students loosen up and cooperate with other students who they normally do not associate with.
To learn more, or book New Games for your youth group, simply fill out the form below: