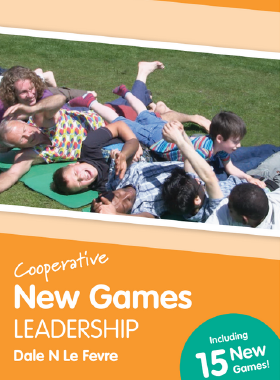 How To Lead Cooperative New Games
For the first time, Dale N. Le Fevre presents a visual leadership guide to accompany the New Games he offers. While he has always offered written guides of the qualities needed to lead the games in his DVDs and books, this time these are not only discussed but demonstrated graphically to maximize the most effective way to lead. Naturally, many of these leadership techniques can be applied to other situations.
Why play New Games?
New Games are fun cooperative group games for people of all ages, sizes, and abilities. Beyond that, playing them is a great way to learn a wide range of physical and social skills by doing these in the context of play – without even realizing it since they are just part of the games. Basic learning skills such as listening, following directions, cooperation, self control, and concentration are part of every game. (A detailed listing of skills for each game is with each game and on a pdf file.)
New Games get people moving and playing because they're fun. This make them a good way to help keep fit and are a perfect antidote for combating obesity.
Including 15 new New Games
There are 15 New Games that have not been presented on film by Dale previously. Some are quite unusual and all are fun.
Text files included in pdf format provide written games descriptions, leadership qualities, and skills information for each game besides being included with information for each game.
Dale Le Fevre, who's he?
Dale Le Fevre has been learning and teaching cooperative New Games since 1975, presenting over 1000 New Games workshops in 33 countries world-wide. He's written 3 books and created 4 other films about New Games. You can order these from this web site.

Format: DVD
Running time: 50+ min. (15 games)
In Stock
Limited Offer – Free Shipping

Format: Download
Running Time: 50+ min. (15 games)
No Shipping Costs
In Stock