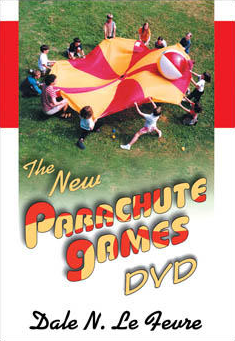 The New Parachute Games DVD
presents 20 games that are fun and include everyone. Besides that, there are all sorts of skills that are learned or practiced by doing the games: social, developmental, and learning.
Parachute Games – on the Ground!
If you have a play parachute or are thinking of getting one, The New Parachute Games DVD will be your most economical and useful educational purchase of any year. Presented are 20 games showing you what to do with a parachute in this professionally made DVD, winner of a GOLD AWARD in the "HOW TO'S/INSTRUCTIONAL VIDEO" category at WORLDFEST HOUSTON, and winner of an APPROVAL RATING by the
COALITION FOR QUALITY CHILDRENS MEDIA (KIDS FIRST). A few games are more known activities for beginners and to set up other games, but there are also unusual games that you probably have never seen before.
Benefits of Parachute Games
The parachute is the best piece of play equipment yet invented – it's very attractive, it can keep the interest of large groups for a long period, and it can easily be put away. This DVD will help you get started or give you some new ideas. It's a lot of fun for very little money.
Immediate viewing access to any game desired via buttons for each game
A PDF file to print out descriptions of the games that you can use in games sessions
Enhanced clarity of picture that DVD offers
Learning Skills
Parachute Games are a great way to learn about cooperation, self control, and a host of other physical, social, and learning skills – without even noticing. That's because everyone is too busy having fun! The skills are learned because they are a part of the games. It doesn't matter how old, how strong, or how skillful you are, the emphasis is on teamwork and doing the games well together. This DVD skillfully demonstrates the games and shows the excitement of the participants. After seeing this DVD, you will agree that it is the best video yet made about parachute games.
Each game on the DVD is 1 to 2 minutes long and includes a full explanation, demonstration, and is played enough to show how it looks in action. Includes descriptions for each game on a pdf file.
The games presented here feature Dale N. Le Fevre as presenter and are mostly different from those that are on the DVD that comes with the book
Parachute Games with DVD
.

Format: DVD
Running time: 25 min. (20 games)
In Stock
Limited Offer – Free Shipping

Format: Download
Running Time: 25 min. (20 games)
No Shipping Costs
In Stock
School Library Journal Review
Dale Le Fevre leads a group of children through 20 different activities that require the use of a parachute. He introduces the video by talking about parachute games and how they foster cooperation and teamwork among children.
Some of the activities require the use of other equipment, including balls. Le Fevre provides instructions for each game and performs it with a group of school age children at a playground. The directions are clear and easy to understand. The different games feature varying groups of multicultural kids. The activities range from the familiar waves, where children simply shake the parachute (which could tie in to an oceanography unit), to the big bang in which children can send balls flying into the sky. It is clear by the shouts of delight that the children are having a great time.
The video quality is grainy at times. Viewers wanting more background information and theory should check out some of LeFevre's books, including Parachute Games [with DVD] (Human Kinetics, 2006). This video would be useful for educators and childcare providers interested in using parachute games as a part of their curriculum.