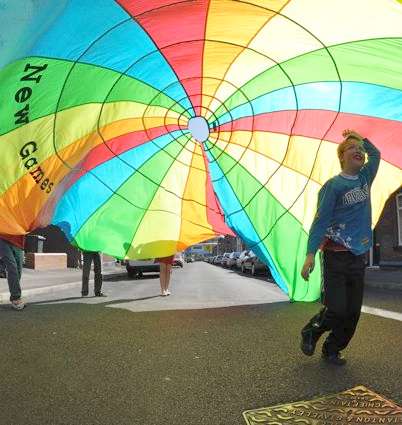 In my estimation, having presented games for over 40 years, the parachute is the best piece of recreation
equipment
that exists. Besides encouraging teamwork, parachute activities build upper body strength, gross motor skills, and develop balance, coordination, and flexibility. Cooperation is a key learning skill with parachutes, but most of all children (and adults too) find parachutes fun, exciting, and highly engaging.

Colorful, Exciting High-Quality Play Parachutes
These 'playchutes' are made of colorful nylon panels, which alternate red, green, blue, and yellow. They are constructed with sturdy double stitching and have a mesh center. Handles and a storage bag are also included.

12-Foot Parachute
Ideal for those working with small groups in a therapeutic setting, e.g. with the elderly, in physiotherapy work, or special needs groups.

24-Foot Parachute
Ideal for most groups and New Games leaders.

30-Foot Parachute
Recommended for large groups and festivals.