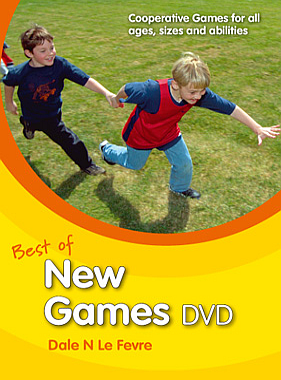 The Best of New Games DVD is an extensive presentation of New Games, with almost 2 hours of video. Dale N. Le Fevre, one of the founders of New Games, explains, demonstrates, and plays the games with groups. There is enough material here for you to successfully start an ongoing New Games program.
Cooperative Games for Learning
These cooperative games are for fun first, but intrinsic parts of the games are for learning (listening, following directions, concentration, and memory), social skills (teamwork, cooperation, inclusion, trust), and motor skills (running, throwing/catching). Without saying so, New Games teach or reinforce these plus basic skills in math, English, languages, and creative thinking, and expression. But to players, what matters is that New Games are fun!
16 of the New Games were recently recorded in UK schools and 47 games are in an archived section, which feature people of mixed ages playing the games.
Printable Resources for Games Leaders
There are also printable pdf files with extensive sections on:
How to lead games
A summary of skills involved in each game, including how many players and what space is needed
Brief descriptions of each game

Format: DVD
Running time: 110 min. (63 games)
In Stock
Limited Offer – Free Shipping

Format: Download
Running Time: 110 min. (63 games)
No Shipping Costs
In Stock