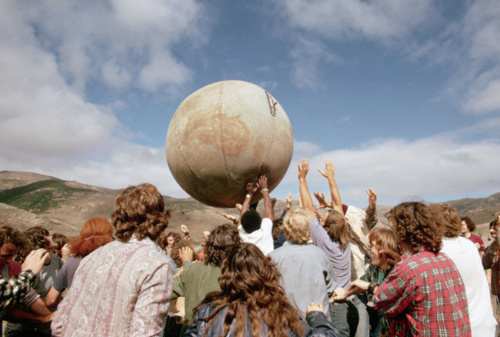 In part 3 I talked about the emergence of the game 'Slaughter', an energetic game that included the use of 4 balls.
Another game that came out of that day was competition Earthball, which was similar to soccer, except that the ball was 6 feet in diameter, canvas and rubber, and painted like a globe. After the ball was inflated, without choosing teams Stewart announced that "There are two kinds of people in the world: those who want to push the Earth over the row of flags at that end of the field, and those who want to push it over the fence at the other end. Go to it." There was ample competition as ball moved back and forth on the field, but curiously, as the ball approached a goal, players from the winning side would start to help the losers. After an hour there was still no score – there seemed to be an agreement just to keep playing hard. And just for fun.
Out of Stewart's experiences with these games, he conceived of "softwar," the notion that players could create their competitive games to meet their needs. He defined softwar as "conflict which is regionalized (to prevent injury to the uninterested), refereed (to permit fairness and certainty of a win-lose outcome), and cushioned (weaponry regulated for maximum contact and minimum injury)."
While Stewart claimed there wasn't much difference between softwar and sport, there were several important points of departure: players agreed at the beginning of the game that if someone yelled "Stop" that all players within ear shot immediately stop, thus preventing injury; at any point a player didn't want to continue because they were tired or the game was too rough for them, they could simply choose to leave the playing area. These features are generally not true of sport.