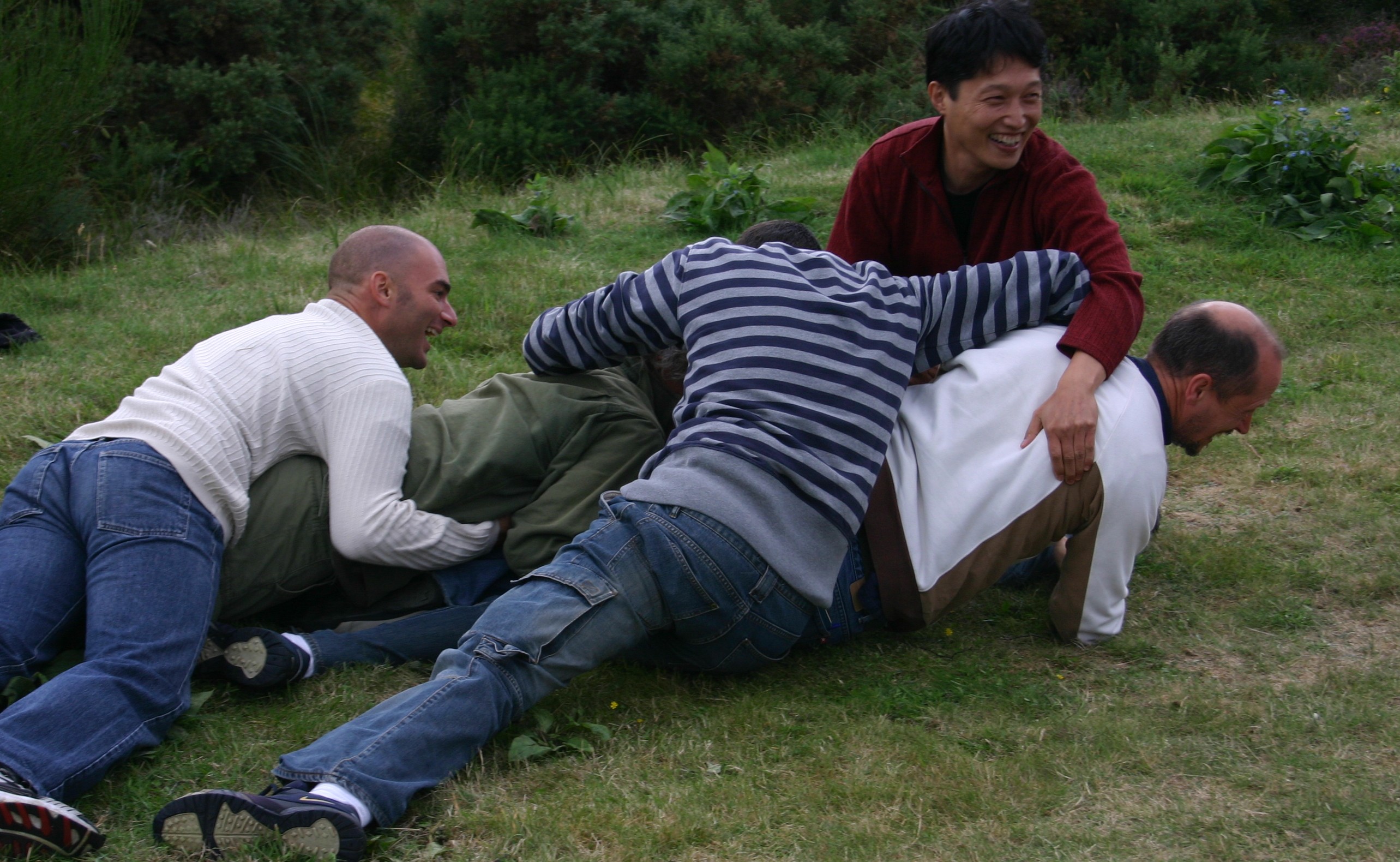 Where did New Games come from?
In brief, New Games started as an idea of Stewart Brand, creator of the Whole Earth Catalog, in reaction to the Vietnam War. He felt that combat was getting abstract and remote. Stewart was looking for ways for people to channel and express their aggressive tendencies in ways that wouldn't harm others. When the War Resisters League at San Francisco State College requested him to put on an event to demonstrate the uselessness of war, Stewart chose to create an event which, instead of preaching to the choir, would get people to understand war by experiencing the source of it within themselves. The name of the event? World War IV. (The prospect of WW III looked like it would be an earth destroying nuclear war, so Stewart skipped that to the next phase.)
What Stewart saw in 1966 were peaceniks and war resisters who were against warfare in all forms, including competitive games. But he felt that these pacifists were out of touch with their own bodies and feelings in an unhealthy way. "Consequently, they were starting to project a heaviness on a personal level that was just as bad as the heaviness we were projecting in Vietnam," he said. He was looking for a game "which would fairly intense physical interaction between players." Stewart chose the most offensive name imaginable for his game: Slaughter.
This was the beginning of Soft War.
Slaughter was played on a large wrestling mat with players on their knees, without shoes, watches, belts, and other such items to minimize injuries. The game had two levels: to get one of four balls into one of two of the opposition's movable goals to win; to eliminate opposing players by getting them off the mat, which rendered them "dead." It was absolutely impossible to keep from becoming involved. What players found was an intense, energetic game with a great deal of body contact. There were no serious injuries, and, to the surprise of the players, it was fun.
Earthball
Read part 3, the phenomenal Earthball, what it stands for, and the games it facilitates…