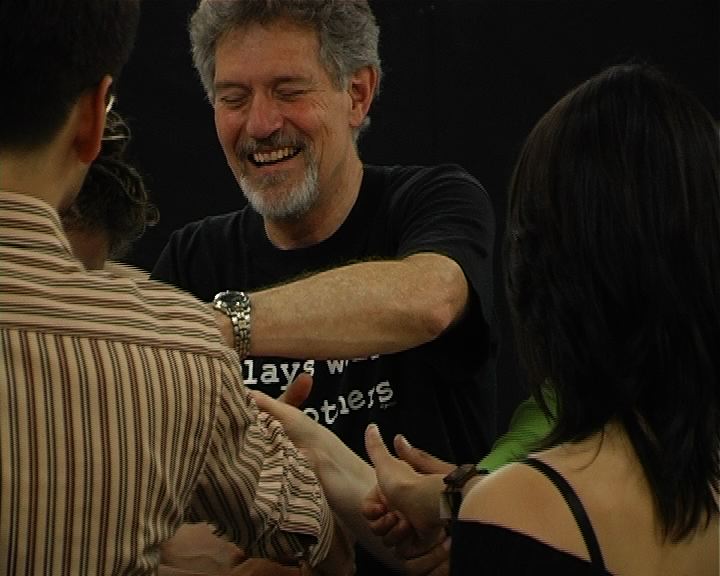 What are New Games?
For some of us, cooperative New Games never went away. We just kept right on doing them since their introduction in the early 1970's. For others who have come along since then, they may still not know what New Games are. "Oh, you mean computer games." Um. No. "Oh, you mean non-competitive games." Still, no. Simply stated, New Games are cooperative group interactive games that are played just for fun, even when there is competition.
Since it doesn't matter who wins, we can include everyone, those of all ages, sizes, abilities, and both genders. You can be slow, very large or very small, young or old, not very coordinated, in a wheelchair or almost anything else and still be able to join. Even expert athletes enjoy these games because for a change, they can relax and just enjoy playing for the sheer joy of it instead of worrying about winning. Even while trying to win. New Games are one of the few physical activities that whole families can do.
Still don't get it? No problem. Think of it this way, the games are icebreakers, energizers, and team builders, ways to get a group to relax and get to know each other in new ways. The games look similar to children's games, but with subtle differences. Player's jokes and suggestions are incorporated into the games. Winning isn't everything. It's only one element of the games, and not the most important element. Having fun and including everyone are more important, to start. We take care of each other so that no one gets hurt and it's enjoyable for all. Mainly, the idea is to have fun and include everyone who wants to join. We sometimes change the rules so everyone has a chance to enjoy the game and be able to participate fully. That doesn't mean the games are trivial. I'll address that at the end of this article.
Where did New Games come from?
Read part 2, to learn how New Games developed and what it can do for your groups…