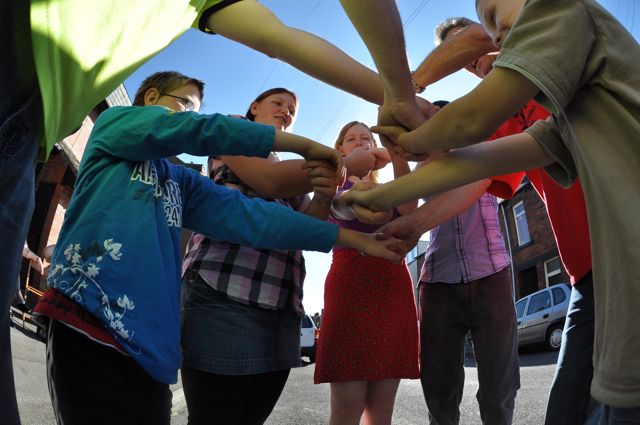 Trust Games and Creative Play
In addition to the element of softwar, which has become a minor part of New Games, the concept of "creative play" came from a friend of Stewart's named George Leonard, author of the book The Ultimate Athlete. What was involved here was placing a player "in an open environment and encouraged to use his/her imagination to devise new play forms." The vitally significant part of this was "How we play the game may turn out to be more important than we imagine, for it signifies our way of being in the world." Thus, players not only were able to change the games they were playing, even during the course of play, they were able to invent entirely new games.
The other significant addition to the New Games idea came from the human potential movement – Trust Games. In these activities, players had to give up control and literally trust other players to take care of them. And that is much more scary than it sounds. In the game of Trust Lift, for example, the group lifts a person above their heads and moves them around while in the air before lowering them. If you are the person being lifted, this is a frightening, exhilarating, and peaceful experience, all at once.
New Games over the years
In part 5, we look at some places New Games has gone since its beginnings….